KEEPING PETS HAPPY IN ARIZONA SINCE 1985
HALE PET DOORS ARE SIMPLY THE BEST!
Energy Efficient – 5 times stronger magnets, all around weather stripping, double flaps
Safe and Secure – Impact Resistant locking security cover with carpeted tunnel and soft flexible flaps for safety and durability
Quality Construction – 5 year prorated warranty that includes flaps
Durable and Quality Construction – extruded aluminum frame, steel reinforced corners, heavy duty marine grade polymer cover
Attractive – 4 frame and cover choices to mix and match, sleek narrow profile
IN-WALL PET DOORS
The Hale Pet Door wall dog door is the most energy-efficient pet door. The double flaps are on the interior and exterior walls of your home, so the air space insulates your home, keeping conditioned air in and outside air out. The wall pet door can be installed in all types of walls:
Standard Frame with stucco or siding
Brick
Block
Concrete
Trying to install your door under a window, desk or cabinet? Consider a sideload security door. Learn more in our FAQ section
Call to schedule an appointment or come into our showroom and purchase today!
IN-GLASS PET DOORS
It's clear that "through glass" pet doors are the most elegant of dog door installations. You keep your view while your pets get access to the yard and back into the house when they want it. Hale Pet Door is the original through glass pet door, invented by Bill Hale in 1980's.
Hale Pet Door has been professionally installing in glass dog doors in Phoenix since 1985.
Glass Doors, Sliding Glass Doors, Arcadia Doors, French Doors
Q: How do you cut the glass?
A: Magic! Not really! We can't cut the glass, it is tempered and it would shatter. It is a two-visit implementation. First, we come onsite and measure your door and glass type. Then we re-manufacture a new piece of glass, just like the one you have with the notch cut out. Then, we come back onsite and replace your glass with the new glass and then install the pet door.
Call us today to schedule a glass consultation!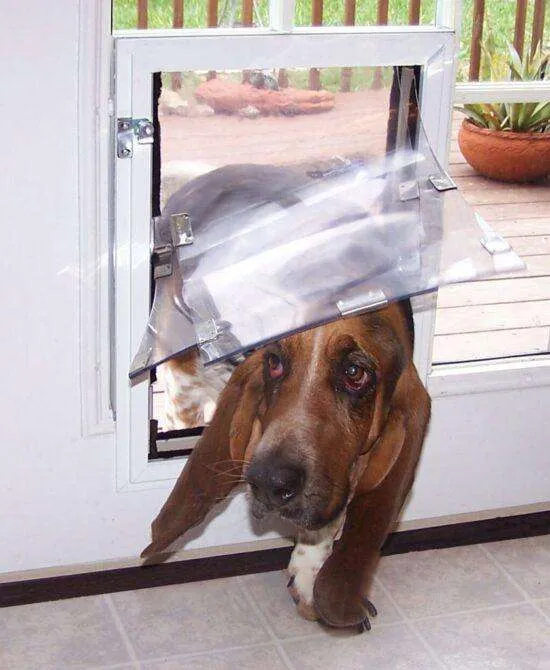 IN-DOOR PET DOORS
If you want a pet door in your entry door, Hale Pet Door makes the most durable attractive door pet doors. You can have your door pet door installed in all types of doors: wood, metal, fiberglass, hollow core and raised panel.
An entry door pet door can be very convenient as your pet will use your entrance.
Call to schedule an appointment or come into our showroom today!
IN-SCREEN PET DOORS
If you enjoy fresh air, get a screen pet door installed in your screen. Your pet will enjoy the freedom while you relax because you won't have to be your doggie's doorman.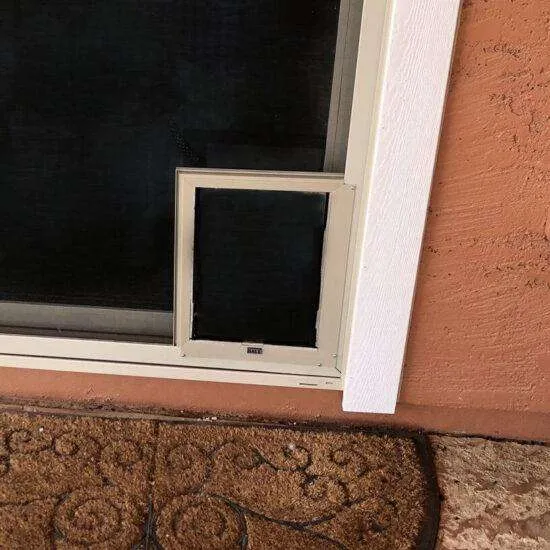 FOUR ATTRACTIVE FINISHES TO CHOOSE FROM!
White
Powder-coated paint, white, looks like an appliance white
Arizona
Beige
Powder coated paint, tan/khaki, looks like coffee with a couple of creamers added
Brushed
Aluminum
Anodized metal, satin nickel color, looks like the bottom of a soda can
Dark
Bronze
Anodized metal, chocolate brown, looks almost black