KEEPING PETS HAPPY IN ARIZONA SINCE 1985
PET RUNS PROTECT YOUR PETS
If your yard is not fenced in, or if there are predators in your area (i.e. hawks, owls, or coyotes) a pet run might be just what you need to deter predators and allow your pet the freedom to go outside. We offer modular, configurable pet runs. They are good for dogs , cats and other pets that you might have. They are configured in 5-foot sections and have a gate for easy human access.
Pet Run Main Features
Configurable: Modular 5' wide x 6' high welded wire sections
Safe and Secure: center welded wire mesh (no sharp edges), anchored into the ground, deters predators
Durable and Quality Construction: 8-gauge welded wire mesh, commercial-grade all-steel frame (no plastic parts)
Attractive: 2-step powder-coated finish (black)
Warranty: – One Year Manufacturer's Warranty
Put Run Options
Schedule Your Appointment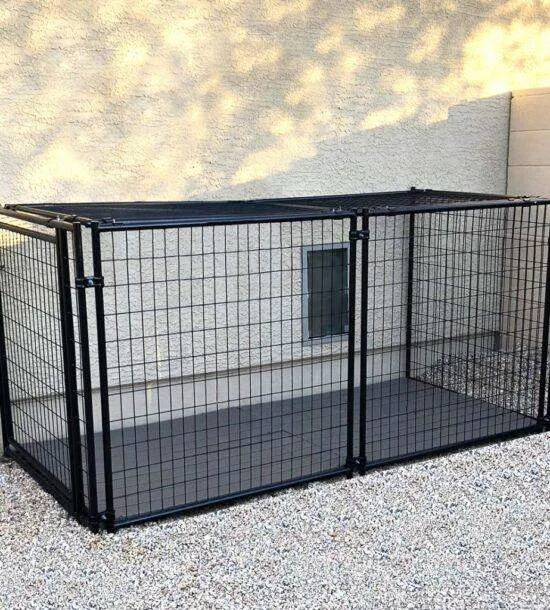 WHAT SIZE DO YOU NEED?
Once you have determined where you want you're pet run to be built, you will need to determine how large you need it to be.
Sample sizes (5'wide increments)
5' x 5'
5' x 10'
5' x 15'
5' x 20'
10' x 10' (Top not available)
10' x 15' (Top not available)
10' x 20' (Top not available)
You can find all of our information about how to choose the appropriate size pet door for your furry friend and order replacement parts on our Pet Door Sizing page.